Guided Tours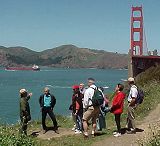 The National Park Service at the Presidio offers a variety of scheduled ranger and docent led programs, and group programs that can be arranged by appointment in advance.
For more information or to schedule a group program contact:
Presidio Interpretation at (415) 561-2817 or (415) 561-4323


Did You Know?
The National Cemeteries Act was based on the principles articulated by President Lincoln in his Gettysburg Address--"that these dead shall not have died in vain." Passed by Congress in 1863, the law established thirteen cemeteries to inter veterans of the Armed Forces and their families.