CAUTION: Post Storm Damage to Coastal Trail

The Presidio Coastal Trail segment just north of the Pacific Overlook and adjacent to Lincoln Blvd remains CLOSED indefinitely. We have posted signage to alert bicyclists and hikers and with information for safe trail alternatives. More »
Golden Gate Bridge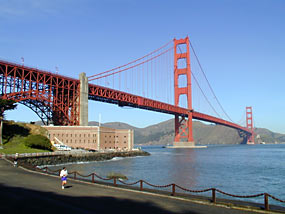 The Golden Gate bridge is one of the most famous and beautiful bridges in the world because of its spectacular location, graceful lines, Art Deco detailing, and emblematic color. With towers extending 700 feet into the sky and over 100 feet beneath the bay, the bridge is also an engineering marvel. You may walk or bike the entire length of the 1.2 mile-long bridge, but dress warmly! A gift center and a café welcome visitors at the south end. Bridge walk is open between the hours of 7 a.m. and 7 p.m.
Visit the Golden Gate Bridge web site
Did You Know?
The National Cemeteries Act was based on the principles articulated by President Lincoln in his Gettysburg Address--"that these dead shall not have died in vain." Passed by Congress in 1863, the law established thirteen cemeteries to inter veterans of the Armed Forces and their families.