Golden Gate Bridge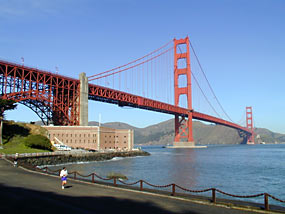 The Golden Gate bridge is one of the most famous and beautiful bridges in the world because of its spectacular location, graceful lines, Art Deco detailing, and emblematic color. With towers extending 700 feet into the sky and over 100 feet beneath the bay, the bridge is also an engineering marvel. You may walk or bike the entire length of the 1.2 mile-long bridge, but dress warmly! A gift center and a café welcome visitors at the south end. Bridge walk is open between the hours of 7 a.m. and 7 p.m.
Visit the Golden Gate Bridge web site
Did You Know?
In 1882, the fort now known as Fort Point was given the name "Fort Winfield Scott", a name it retained for four years before being downgraded to a sub-post of the Presidio. In 1912, the name was reused for the new coast artillery post at the Presidio, today's Fort Scott.