CAUTION: Post Storm Damage to Coastal Trail

The Presidio Coastal Trail segment just north of the Pacific Overlook and adjacent to Lincoln Blvd remains CLOSED indefinitely. We have posted signage to alert bicyclists and hikers and with information for safe trail alternatives. More »
Crissy Field Marsh and Beach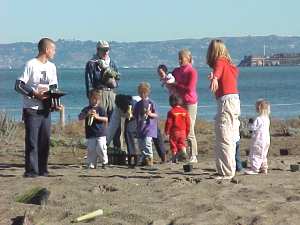 Crissy Field is the premier recreation area on the Presidio. The Golden Gate Promenade provides access to the newly restored tidal marsh and beaches along the bay shore. Whether your walking, running, biking or merely contemplating at the shore, you can enjoy the expansive views, water birds, native plants and sandy beaches along Crissy Field. You also can volunteer to help with the native plant restoration.

Visit Crissy Field
Find out more about visiting Crissy Field and learn what other opportunities are available through the Golden Gate National Parks Conservancy, partner of the GGNRA. More...
Did You Know?
In 1915, a tragic fire at the Presidio claimed the lives of General Pershing's wife and his three daughters. Pershing's son, Francis Warren, survived the blaze and chose to enlist in the army as a private during World War II. By the end of the war he had achieved the rank of major.