Crissy Field Center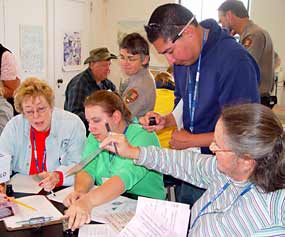 National Park Service, GGNRA
The Crissy Field Center has relocated to the East Beach area on Crissy Field while Doyle Drive is being rebuilt. The center offers a rich array of educational programs that focus on the convergence of urban and natural environments. Its mission is to promote multicultural perspectives, environmental stewardship, and community service.
The new Crissy Field Center is not open to the general public, but food and refreshments are available in Beach Hut Cafe; located in the same building.
Did You Know?
The National Cemeteries Act was based on the principles articulated by President Lincoln in his Gettysburg Address--"that these dead shall not have died in vain." Passed by Congress in 1863, the law established thirteen cemeteries to inter veterans of the Armed Forces and their families.