CAUTION: Post Storm Damage to Coastal Trail

The Presidio Coastal Trail segment just north of the Pacific Overlook and adjacent to Lincoln Blvd remains CLOSED indefinitely. We have posted signage to alert bicyclists and hikers and with information for safe trail alternatives. More »
Crissy Field Center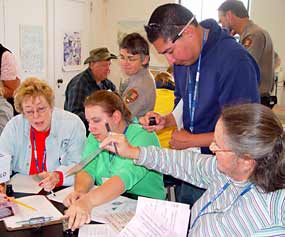 National Park Service, GGNRA
The Crissy Field Center has relocated to the East Beach area on Crissy Field while Doyle Drive is being rebuilt. The center offers a rich array of educational programs that focus on the convergence of urban and natural environments. Its mission is to promote multicultural perspectives, environmental stewardship, and community service.
The new Crissy Field Center is not open to the general public, but food and refreshments are available in Beach Hut Cafe; located in the same building.
Did You Know?

The modern-day Officers' Club was part of the original Spanish Presidio. In the front section of the building, excavations have uncovered adobe walls dating from the 1790's.