Crissy Airfield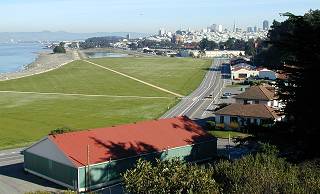 National Park Service, GGNRA
Originally a coastal wetlands occupied seasonally by
the Ohlone people
, the
Crissy Field
area has seen more changes in use than any other site in the Presidio. After being allocated for stables, warehouses, and a refuse site in the late 1800's, the tidal sloughs were filled for the
1915 Panama Pacific International Exposition
. During World War I, barracks for 6,000 soldiers covered the area prior to construction of the airfield in 1919.
From 1921 to 1936
Crissy Army Airfield
was the center of West Coast military aviation. During these years of explosive advances in air power, pilots from Crissy performed maneuvers and mock battles, flew endurance flights, surveyed the west by air, and scouted for forest fires.
A major restoration of the airfield area was completed in 2001.
Tips and Highlights
Park in beachfront lots just west of the Marina gate.
Bring sweatshirts and sunglasses for the kids, as the wind can blow sand.
Although the water is usually clean and safe, heed warnings when they are posted.
The Warming Hut is, appropriately enough, a place to escape the wind and fog that blow through the Golden Gate.
The wind usually picks up by mid-day. If you want a quiet walk, go during the early morning hours.
The beach can be seen at its widest during low tide.
You can legally fish or crab without a license at Torpedo Wharf at the west end of Crissy Field. Look for posted regulations.
Crissy Field Center has a host of award-winning community and youth programs, including its popular Summer Camp.
Nature
A Monumental Restoration Effort
As part of the restoration, over 100,000 native plants representing 110 species were planted or seeded around the site. Since the restoration, biologists have identified over 17 fish species and 135 bird species in the tidal marsh, including herons, egrets, ducks, and gulls. Also, keep an eye out for the heads of California sea lions as they swim past Crissy Field!
Dungeness Crabs (Cancer magister)
Born in the open ocean, millions of crab larvae drift into the bay. The larvae grow into young crabs in food-rich shoreline areas such as the waters off Crissy Field. Because these orange crabs with white claws don't reach maturity until long after returning to the ocean, it is illegal to trap them in the bay.

Visit Crissy Field
Find out more about visiting Crissy Field and learn what other opportunities are available through the Golden Gate National Parks Conservancy, partner of the GGNRA. More...
Did You Know?
Though the majority of animals buried in the Presidio pet cemetery are dogs and cats, there are also parakeets, canaries, pigeons, macaws, rabbits, hamsters, rats, lizards, goldfish, and mice.