CAUTION: Post Storm Damage to Coastal Trail

The Presidio Coastal Trail segment just north of the Pacific Overlook and adjacent to Lincoln Blvd remains CLOSED indefinitely. We have posted signage to alert bicyclists and hikers and with information for safe trail alternatives. More »
Battery Chamberlin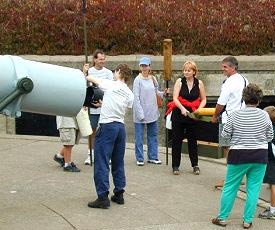 Built near Baker Beach in 1904, Battery Chamberlin was constructed to accommodate the lighter, stronger, more powerful coastal defense artillery developed in the late nineteenth century.

Today, Battery Chamberlin holds the last 6-inch "disappearing gun" of its type on the west coast. On the first full weekend of each month, you can take part in demonstrations of the gun and visit a small seacoast defense museum at the battery.
Demonstrations are typically held between 11 a.m. and 3 p.m. on the first Saturday and Sunday of each month.
Click here to learn more about the history of Battery Chamberlin.
Did You Know?
Though the majority of animals buried in the Presidio pet cemetery are dogs and cats, there are also parakeets, canaries, pigeons, macaws, rabbits, hamsters, rats, lizards, goldfish, and mice.