Battery Chamberlin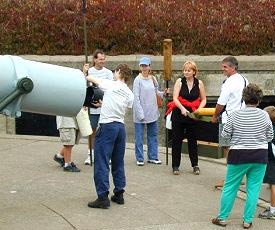 Built near Baker Beach in 1904, Battery Chamberlin was constructed to accommodate the lighter, stronger, more powerful coastal defense artillery developed in the late nineteenth century.

Today, Battery Chamberlin holds the last 6-inch "disappearing gun" of its type on the west coast. On the first full weekend of each month, you can take part in demonstrations of the gun and visit a small seacoast defense museum at the battery.
Demonstrations are typically held between 11 a.m. and 3 p.m. on the first Saturday and Sunday of each month.
Click here to learn more about the history of Battery Chamberlin.
Did You Know?
The National Cemeteries Act was based on the principles articulated by President Lincoln in his Gettysburg Address--"that these dead shall not have died in vain." Passed by Congress in 1863, the law established thirteen cemeteries to inter veterans of the Armed Forces and their families.