Operational Changes Took Effect on May 1

The Lighthouse Visitor Center is now only open Fridays through Mondays; closed Tuesdays through Thursdays, including Thanksgiving. The Kenneth C. Patrick Visitor Center will be closed through late December, reopening weekends and holidays on December 28. More »
Visitor Center Winter Hours

Visitor Center Winter Hours took effect on Sunday, November 3, 2013. More »
Red Barn Art Exhibitions: Portus Novæ Albionis {{close discoveries}}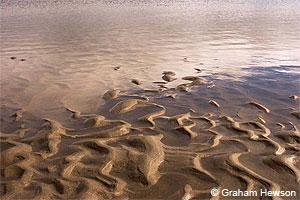 "Portus Novæ Albionis {{close discoveries}}"
July 1, 2010 through September 30, 2010
Photographer Graham Hewson's photographs of scenes from Drakes Estero and Estero de Limantour were on display in the Red Barn Classroom from Thursday, July 1, 2010, through Thursday, September 30, 2010. There was also a photographer's reception at the Red Barn Classroom on Sunday, July 11, 2010.
Visit the Red Barn Art Exhibitions section of our Indoor Activities page to find out what is currently on display. The Red Barn Classroom gallery is open by appointment only, Mondays through Fridays, 9 am to 4 pm. Please contact Carola DeRooy at 415-464-5125 or by email to schedule an appointment or for more information.
To get to the Red Barn Classroom, follow the directions to Point Reyes National Seashore. As you proceed up the driveway toward the Bear Valley Visitor Center, turn left at the sign for the Red Barn Classroom.
Did You Know?
Deathcap mushrooms are found throughout the Point Reyes region and are the most poisonous mushrooms in the world. But they're fairly new arrivals here. They invaded the San Francisco Bay Area in the late 1930s, likely brought over on cork trees from Europe for the wine industry. More...