Red Barn Art Exhibitions: "Picturing the Point Reyes Peninsula"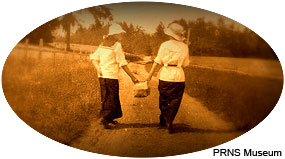 "Picturing the Point Reyes Peninsula"
April 9, 2012 through May 30, 2012
The public was invited to revisit the people and landscapes of the Peninsula through historic photographs and captions examining the area's history. The exhibit touched upon the Coast Miwok, 16th century explorers, the Mexican Land grant era, and the settlement of West Marin after the Gold Rush as a major dairy ranching and recreation area.
The photographs that were displayed are from the Point Reyes National Seashore Archives and the Jack Mason Museum of West Marin History.
Visit the Red Barn Art Exhibitions section of our Indoor Activities page to find out what is currently on display. The Red Barn Classroom gallery is open by appointment only, Mondays through Fridays, 9 am to 4 pm. Please contact Carola DeRooy at 415-464-5125 or by email to schedule an appointment or for more information.
To get to the Red Barn Classroom, follow the directions to Point Reyes National Seashore. As you proceed up the driveway toward the Bear Valley Visitor Center, turn left at the sign for the Red Barn Classroom.
Did You Know?

Climate scientists warn that the safe upper limit for atmospheric carbon dioxide (CO2) concentrations is 350 parts per million (ppm). For most of human history, atmospheric CO2 rarely exceeded 275 ppm--until the industrial revolution. As of 2014, atmospheric CO2 was ~400 ppm–-and rising 2 ppm/year. More...