Red Barn Art Exhibitions: "Pastel Visions - West Marin and Beyond"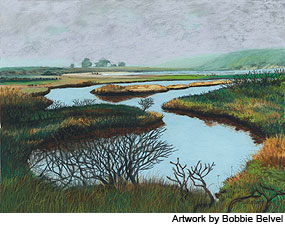 "Pastel Visions - West Marin and Beyond"
June 1, 2012, through August 24, 2012
Bobbie Belvel's artwork depicts scenes of West Marin and points north and south along the coast. Bobbie Belvel is Point Reyes National Seashore's facilities management budget analyst.
In addition to the exhibition, the public was invited to an artists' reception at the Red Barn Classroom on Saturday, August 4, 2012.
Visit the Red Barn Art Exhibitions section of our Indoor Activities page to find out what is currently on display. The Red Barn Classroom gallery is open by appointment only, Mondays through Fridays, 9 am to 4 pm. Please contact Carola DeRooy at 415-464-5125 or by email to schedule an appointment or for more information.
To get to the Red Barn Classroom, follow the directions to Point Reyes National Seashore. As you proceed up the driveway toward the Bear Valley Visitor Center, turn left at the sign for the Red Barn Classroom.
Did You Know?

Four species of pinnipeds (seals and sea lions) rest onshore or breed at Point Reyes: the Northern elephant seal (Mirounga angustirostris), the harbor seal (Phoca vitulina), the California sea lion (Zalophus californianus), and the Steller sea lion (Eumetopias jubatus). More...