Point Reyes Headlands Winter Shuttle Bus System

On weekends & holidays, Sir Francis Drake Boulevard is closed beyond the South Beach Road junction from 9 am to 5:30 pm during favorable weather conditions. Bus service to the Lighthouse & Chimney Rock is provided from Drakes Beach. More »
2014 Harbor Seal Pupping Season Closures

From March 1 through June 30, the park implements closures of certain Tomales Bay beaches and Drakes Estero to water-based recreation to protect harbor seals during the pupping season. Please avoid disturbing seals to ensure a successful pupping season. More »
Operational Changes Took Effect on May 1, 2013

The Lighthouse Visitor Center is now only open Fridays through Mondays; closed Tuesdays through Thursdays, including Thanksgiving. The Kenneth C. Patrick Visitor Center is open on weekends and holidays when shuttles are operating. More »
Red Barn Art Exhibitions: "Pastel Visions - West Marin and Beyond"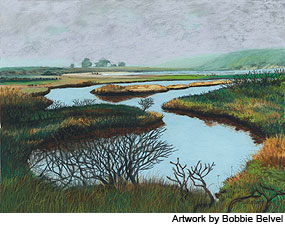 "Pastel Visions - West Marin and Beyond"
June 1, 2012, through August 24, 2012
Bobbie Belvel's artwork depicts scenes of West Marin and points north and south along the coast. Bobbie Belvel is Point Reyes National Seashore's facilities management budget analyst.
In addition to the exhibition, the public was invited to an artists' reception at the Red Barn Classroom on Saturday, August 4, 2012.
Visit the Red Barn Art Exhibitions section of our Indoor Activities page to find out what is currently on display. The Red Barn Classroom gallery is open by appointment only, Mondays through Fridays, 9 am to 4 pm. Please contact Carola DeRooy at 415-464-5125 or by email to schedule an appointment or for more information.
To get to the Red Barn Classroom, follow the directions to Point Reyes National Seashore. As you proceed up the driveway toward the Bear Valley Visitor Center, turn left at the sign for the Red Barn Classroom.
Did You Know?

A 1-foot sea level rise can lead to shorelines eroding back 100 feet, and increase the chances of a 100-year flood event in low coastal areas to once every 10 years. More...