Point Reyes Fire Management will be using heavy equipment on the Inverness Ridge Trail this week.

A recreation advisory is in effect for hiking, horse riding, and biking along the Inverness Ridge Trail (aka Bayview Fire Road) during the week of September 14, 2014. Extra caution in this area is critical while work is in progress. More »
Red Barn Art Exhibitions: "Mountains of the American West" by Joan Hoffmann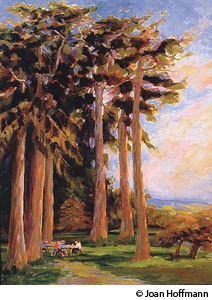 Artist Joan Hoffmann's oil and watercolor paintings of scenes in the mountains of the American West were on display in the Red Barn Classroom from Friday, October 1, 2010, through Friday, December 30, 2010. There was also an artist's reception at the Red Barn Classroom on Saturday, October 16, 2010.
Visit the Red Barn Art Exhibitions section of our Indoor Activities page to find out what is currently on display. The Red Barn Classroom gallery is open by appointment only, Mondays through Fridays, 9 am to 4 pm. Please contact Carola DeRooy at 415-464-5125 or by email to schedule an appointment or for more information.
To get to the Red Barn Classroom, follow the directions to Point Reyes National Seashore. As you proceed up the driveway toward the Bear Valley Visitor Center, turn left at the sign for the Red Barn Classroom.
Did You Know?
The Point Reyes Lighthouse was completed in 1870, 16 years after Congress initially appropriated funds for its construction. It still stands in its original location, having weathered over 140 years at what is considered to be the windiest, foggiest location on the US west coast. More...