Red Barn Art Exhibitions: "Mountains of the American West" by Joan Hoffmann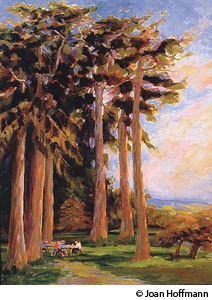 Artist Joan Hoffmann's oil and watercolor paintings of scenes in the mountains of the American West were on display in the Red Barn Classroom from Friday, October 1, 2010, through Friday, December 30, 2010. There was also an artist's reception at the Red Barn Classroom on Saturday, October 16, 2010.
Visit the Red Barn Art Exhibitions section of our Indoor Activities page to find out what is currently on display. The Red Barn Classroom gallery is open by appointment only, Mondays through Fridays, 9 am to 4 pm. Please contact Carola DeRooy at 415-464-5125 or by email to schedule an appointment or for more information.
To get to the Red Barn Classroom, follow the directions to Point Reyes National Seashore. As you proceed up the driveway toward the Bear Valley Visitor Center, turn left at the sign for the Red Barn Classroom.
Did You Know?

A 1-foot sea level rise can lead to shorelines eroding back 100 feet, and increase the chances of a 100-year flood event in low coastal areas to once every 10 years. More...