Point Reyes Fire Management will be using heavy equipment on the Inverness Ridge Trail this week.

A recreation advisory is in effect for hiking, horse riding, and biking along the Inverness Ridge Trail (aka Bayview Fire Road) during the week of September 14, 2014. Extra caution in this area is critical while work is in progress. More »
Red Barn Art Exhibitions: "Grounded: A California Indian Life"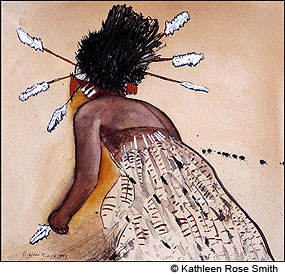 Grounded: A California Indian Life
October 10, 2011 through January 6, 2012
Artist Kathleen Rose Smith's artwork depicting California Indian life was on display in the Red Barn Classroom weekdays from Monday, October 10, 2011, through Friday, January 6, 2012.
Visit the Red Barn Art Exhibitions section of our Indoor Activities page to find out what is currently on display. The Red Barn art gallery is open by appointment only, Mondays through Fridays, 9 am to 4 pm; closed holidays and as otherwise noted. Please contact Carola DeRooy at 415-464-5125 or by email to schedule an appointment or for more information.
To get to the Red Barn Classroom, follow the directions to Point Reyes National Seashore. As you proceed up the driveway toward the Bear Valley Visitor Center, turn left at the sign for the Red Barn Classroom.
In conjunction with this art exhibition were two events held at the Red Barn Classroom.
Download the flyer for the "Grounded: A California Indian Life." (307 KB PDF)
Did You Know?

Elephant seals (Mirounga angustirostris)are the largest pinniped with males reaching a maximum of about 5,000 lbs. Harbor seals (Phoca vitulina) are much smaller with both males and females reaching a maximum weight of around 250 lbs. More...