Point Reyes Fire Management will be using heavy equipment on the Inverness Ridge Trail this week.

A recreation advisory is in effect for hiking, horse riding, and biking along the Inverness Ridge Trail (aka Bayview Fire Road) during the week of September 14, 2014. Extra caution in this area is critical while work is in progress. More »
Red Barn Art Exhibitions: "A Celebration of Art and the Community"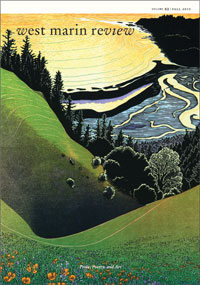 "A Celebration of Art and the Community"
January 10, 2011, through March 31, 2011
Artwork from Volume III of the West Marin Review was on display in the Red Barn Classroom weekdays from Monday, January 10, 2011, through Thursday, March 31, 2011. There was also a Book Release Party at the Red Barn Classroom on Sunday, January 23, 2011.
Visit the Red Barn Art Exhibitions section of our Indoor Activities page to find out what is currently on display. The Red Barn Classroom gallery is open by appointment only, Mondays through Fridays, 9 am to 4 pm. Please contact Carola DeRooy at 415-464-5125 or by email to schedule an appointment or for more information.
To get to the Red Barn Classroom, follow the directions to Point Reyes National Seashore. As you proceed up the driveway toward the Bear Valley Visitor Center, turn left at the sign for the Red Barn Classroom.
Did You Know?

In addition to raising sea levels and temperatures, the increased concentration of carbon dioxide in the atmosphere is changing ocean chemistry by reducing the pH of the ocean. This decreased pH reduces the availability of minerals which marine organisms use to build shells and reef structures. More...