2014 Changes to the Superintendent's Compendium

Point Reyes National Seashore will be including an unmanned aircraft closure to the Superintendent's Compendium. The NPS invites the public to submit written suggestions, comments, and concerns about this change. Comment deadline is August 19. More »
Event: Artists' Reception: "California Art Club Celebrates 50 Years of Point Reyes National Seashore"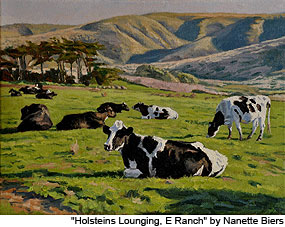 March 10, 2012 from 11 a.m. to 4 p.m.
In the Red Barn Classroom
Please join us for an artists' reception. All are welcome and admission is free.
The San Francisco chapter of the California Art Club presents a selection of juried plein air landscape oil paintings created within Point Reyes National Seashore to kick off a year-long celebration of the park's 50th Anniversary. The paintings will be on display in the Red Barn Classroom weekdays from Friday, January 13, 2012, through Thursday, April 5, 2012, but aside from during the reception on Saturday, March 10, 2012, the exhibit will be shown by appointment only.
The California Art Club was established in Los Angeles in 1909 to promote the fine arts and has nine chapters around the state.
Please contact Carola DeRooy at 415-464-5125 or by email to schedule an appointment or for more information.
To get to the Red Barn Classroom, follow the directions to Point Reyes National Seashore. As you proceed up the driveway toward the Bear Valley Visitor Center, turn left at the sign for the Red Barn Classroom.
Did You Know?

Climate scientists warn that the safe upper limit for atmospheric carbon dioxide (CO2) concentrations is 350 parts per million (ppm). For most of human history, atmospheric CO2 rarely exceeded 275 ppm--until the industrial revolution. As of 2014, atmospheric CO2 was ~400 ppm–-and rising 2 ppm/year. More...