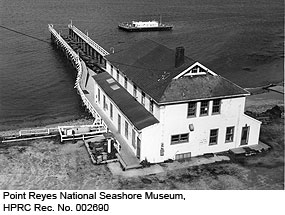 The move to Chimney Rock in 1927 relieved many who faced the dangers of the Great Beach surf but lives risked and lost in the pursuit of saving others were not a thing of the past. After only two months at the new site, the men of the station responded to their first rescue saving the crew from a burning vessel. As the years passed and the Coast Guardsmen left their marks in the Station's logbooks, hints of their bravery can often found. Life saving crews risked their lives in rough seas, near the rocky headlands and among towering waves saving the lives of many. In the process they lost two of their own. In 1960, on Thanksgiving Eve two Coast Guardsmen were lost in an ordinary call for assistance. After securing a disabled vessel in Bodega Bay, the two-man crew radioed their arrival time to the Life Boat Station. That was the last that was heard from the crew. In the morning, their boat was found grounded on Great Beach with the propellers still turning. What happened to the crew? The answer was lost with them, leaving a mystery in its place.
Whatever the answer, there is no question of the surfman's bravery. Even with all these tragedies, the lives and vessel saved far outnumbered those lost by the duty bound. In the 80 years of life saving at Point Reyes, countless vessels, their crews and passengers and millions of dollars worth of ships and cargo were saved.
Our Maritime Past and Future
Eventually modern technologies eclipsed the need for the Lifeboat Station at Point Reyes. The quick response of larger faster coast Guard Cutters and helicopters have meant the need for fewer lifesaving sites and less staff. In 1969 the Point Reyes Lifeboat Station was closed. Much of this history and these lives lived in service to others are now gone. All that remains in its place is a building. Silent and decommissioned, it embodies all the perils endured, and all the lives saved that would have otherwise be lost forever. The Historic Lifeboat Station at Chimney Rock stands as a monument to their stories of service and sacrifice.
These stations and those who staffed them fulfilled their roles in the development of coastal cities and industries. Today the Historic Lifeboat Station at Point Reyes National Seashore is used as a educational facility for non-profit groups learning about the resources of the natural and cultural resources of Point Reyes. The building is visible from the Chimney Rock Trail and is sometimes open to the public on weekends and holidays from January to mid-March. For more information, please call the National Seashore at 415-464-5100.