16th Century Contact Materials
Two distinctive porcelain sources were identified by the late Clarence Shangraw, senior Curator and porcelain specialist of the Asian Art Museum, San Francisco. Differences in motifs, quality of potting, hand-painting, and cobalt blue pigment intensity date these sherds to the 1570s made in Ching-te Chen (Jingdezhen) China's imperial porcelain making center. The wares, specifically manufactured to be exported are known as Kraak ware. The other source of distinctively heavy, more crudely painted wares came from a coastal site near the city of Swatow that began manufacturing these styles for export in the 1590s.
| | | | | |
| --- | --- | --- | --- | --- |
| | | | | |
| | 16th century Kraak porcelain from Jingdezhen | | Swatow Ware | |
The porcelains were typical of the wares aboard 300-400 ton Manila Galleon's that shipped cargos of luxury goods such as porcelain, silk, cotton, spices, wax, gold and silver between China and New Spain (Mexico) via the Spanish West Indies (Philippines) across the Pacific to Acapulco between 1565-1815.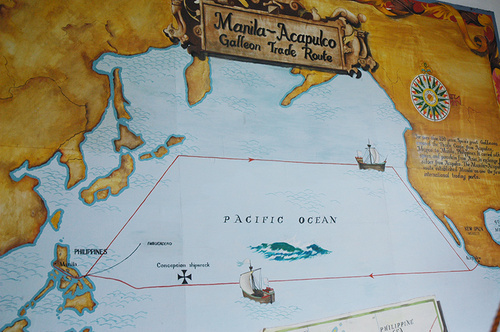 The fully-loaded Spanish Galleon, San Agustin, headed for Acapulco was shipwrecked in Drakes Bay, Califonia in 1595. A large cargo of porcelain was aboard. Sir Francis Drake's company encamped on Marin shores for six weeks in the summer of 1579 during this circumnavigation voyage. Writings from his journey indicate four chests of Imperial Chinese porcelain pirated from a Spanish ship may have been left with the Coast Miwok when Drake sailed back to Europe on the Golden Hind.
A larger sample of individual items is available on
National Park Service web catalog site
where catalog records with images are posted. Use search term Point Reyes National Seashore and porcelain.There are over 700 sherds in the museum holdings.