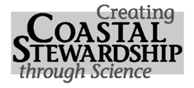 Creating Coastal Stewardship through Science Curriculum Guides
These seven guides were created by teachers for teachers. They provide middle school students with opportunities to observe natural processes at Point Reyes National Seashore to stimulate interest in science and environmental stewardship. Each guide is designed to facilitate hands-on learn experiences using science and the environment. Natural resources such as tule elk, California quail, Pacific gray whales, northern elephant seals, and the San Andreas Fault are highlighted because they are easy to identify and observe. All activities are linked to the California and National Science Standards.

Free Curriculum CD
These curricula are available on CD-ROM by calling 415-464-5139. In your message, please leave your name, address, and school affiliation.
Print the Guides
Our guides are available to download or print as PDF files (Adobe® Acrobat Reader® is needed to view PDF documents). You may print any of these guides in the "Creating Coastal Stewardship through Science" program by downloading the files below:
Reserve Free Teaching Materials for Field Trip
Teacher Resource Backpacks accompany each of these guides as well as binoculars, a spotting scope, and clipboards - all of which may be borrowed free of charge from the Bear Valley Visitor Center.
Call 415-464-5139 to reserve materials specific to your field trip.
Questions, comments
If you would like more information about these exciting programs, please contact Mary Beth Shenton at 415-464-5139 or by email.