Plan Your Visit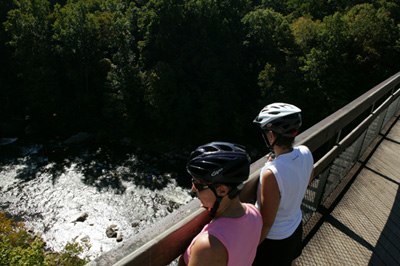 The Potomac Heritage National Scenic Trail is a diverse network of trails and routes embracing portions of five geographic provinces and two major watersheds. Click here to explore the Trail network.
Hiking opportunities are extensive and one of the best ways to experience the beauty, history and culture of the Trail network. Click here to reach the on-line edition of Potomac Heritage Trail: A Hiker's Guide, providing descriptions of places and practical information to help plan day trips, overnight hikes and, for those with more time, the length of the Trail corridor. Developed with assistance from American Hiking Society, the guide can also be purchased as an attractive book from the Allegheny Trail Alliance. Please contact us if you've completed a through-hike or all sections (e.g., travel between Point Lookout, Md. or Smith Point, Vir., and Seward or Point State Park, Penn.)-we'd like to learn from you.
Bicycling opportunities are many, including the marked Northern Neck Heritage Trail, the Southern Maryland PHT route, the Mount Vernon Trail, the C & O Canal Towpath and the Great Allegheny Passage. Contact Adventure Cycling Association for a set of Tidewater Potomac maps.
Paddling the Potomac and Youghiogheny rivers, as well as their tributaries, often provides intimate connections with natural areas and unique perspectives on urban environments. Click here to reach a set of pages on water trails, developed in 2012 with the assistance of the River Management Society.


Did You Know?

The stones for the Old Stone House near the C&O Canal in Georgetown (Washington, DC) are comprised of local quarried material, stones from the surrounding region, as well as from ballast stones that came off of English sailing vessels