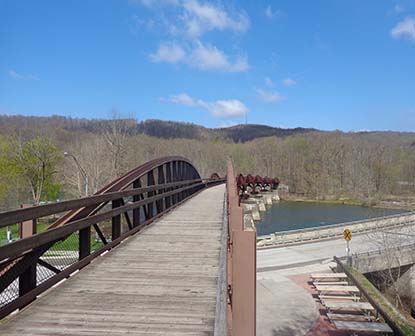 NPS Photo / Guell
Directions to trailheads and other facilities associated with segments of the PHT network can be found on various maps and on the Web sites of Trail management partners. A KMZ file is available to provides a view of primary Trail segments through Google Earth.
By Car:
The Trail network includes portions of three states and the District of Columbia. The map of the Trail network provides an overview of Trail segments and locations relative to major highways, population centers and national parks. More detailed information is available on the Partners, Hiking Guide and Things To Do sections of this Web site. And a PHT segment might be closer than you think: the many hiking, bicycling, equestrian and paddling opportunities in the corridor are often connected.
Using Public Transportation:
Much of the Trail network includes urban and suburban areas served by public transportation, including Amtrak. Additional information is available by clicking on the Public Transportation link, on partner Web sites, and in the hiking guide.
By Air:
The Trail network is served by four major airports: Baltimore-Washington, Reagan National, Washington Dulles and Pittsburgh.