Marysville Pony Express Barn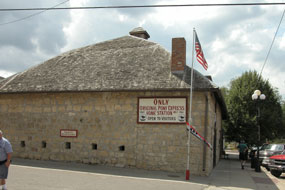 NPS
Marysville Pony Express Barn - Marysville, Kansas
In 1859, Joseph H. Cottrell and Hank Williams built a stone barn in Marysville, Kansas. In 1860, they contracted with Russell, Majors, & Waddell to lease the barn as a livery stable for the Pony Express. The north end of the structure served as a blacksmith shop and stalls were on the other side.
This stable now serves as a museum. The Pony Express station was located in the Barrett Hotel, on the corner of Eighth Street and Broadway about one block north of the stable.
Marysville Pony Express Barn

106 S. 8th
Marysville, KS 66508
913-562-3825
Did You Know?

To carry the U.S. Mail across 1800 miles of wilderness, Pony Express riders changed horses about every 12-15 miles. At each station, the rider would quickly take the mochila with mail pouches from his saddle and throw it onto the saddle of the fresh horse - and off he went. More...