Pony Express Stable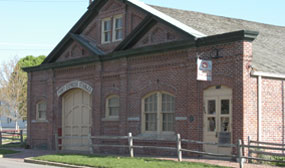 NPS
Pony Express Stable (Pike's Peak Stable) - St. Joseph, Missouri
The original building, known as the Pike's Peak Stable, was built in 1858 to accommodate horses used by the local freight and stagecoach company. In 1860, the Central Overland California and Pike's Peak Express Company purchased the building for the Pony Express, to serve the same purpose.
On April 3, William (Billie) Richardson left this stable, rode the short distance to the Patee House, picked up the waiting mochilla, and headed west on the first Pony Express run to Sacramento, California, nearly 2,000 miles away. The original wooden structure was replaced by a brick building in 1888, but some of the original posts and beams were reused.
In 1950, the Goetz Foundation restored the building to its 1888 brick appearance and established a museum dedicated to the Pony Express, the Pony Express National Memorial.
Pony Express Museum

914 Penn Street
St. Joseph, Missouri 64503
816-279-5059 or 1-800-530-5930
Did You Know?

Avard Fairbanks' sculpture is a study in contrasts that symbolizes the interdependency of the generations—the rider depending on the station keeper to be there for him as the younger generation depends on the older one-an interdependence uniting young and old, and man and beast. More...