HELPING YOU DISCOVER THE PONY EXPRESS TRAIL
Look left, look right, look straight ahead - the land has a story to tell. Swells and swales, creek crossings and river routes, dips and ruts: all these signify an international highway of the past! You can follow the paths of emigrants, pony express riders, forty-niners, entrepreneurs, and stagecoach drivers. Imagine these long-ago times as you travel to historic rendezvous points and scout natural landmarks across the countryside.
These tell-tale signs will help you find and explore the many places and stories of the Pony Express National Historic Trail.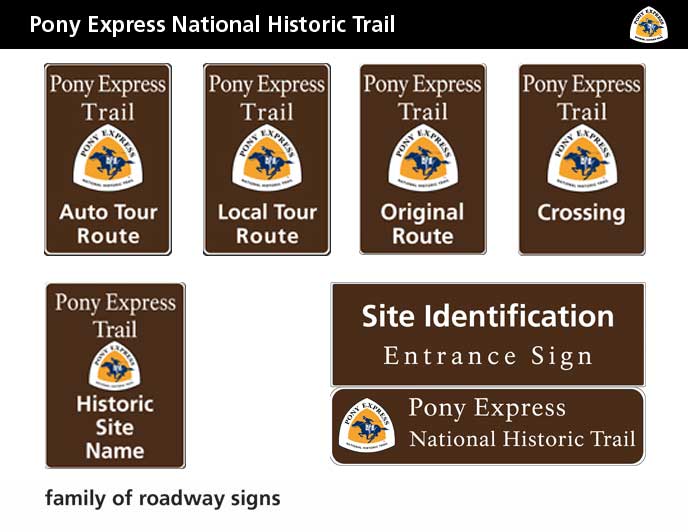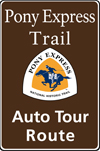 Auto Tour Route signs guide you along all weather roads that more or less follow the historic route of the trail. Look for Historic Site Name signs that clue you into places to experience on the trail. Did a young pony rider carrying President Lincoln's inaugural address to California pass this way?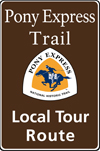 Local Tour Route signs direct you over varied terrain following local low speed, rural, and even dirt roads. They follow a number of historic trail sites or segments in a small geographic area. Take time to visit sites that today remain similar to how pony riders saw them like the Pony Express Back Country Byway through Utah's West Desert.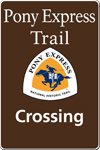 Crossing signs alert you to locations where the historic trail crossed an existing road. But what crossed the road? Can you imagine a young rider speeding across the landscape on a horse?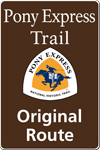 Original Route signs are exclusive. These signs tell you that you are on roads well documented as being the original trail. Travel past Independence Rock and Devil's Gate in Wyoming and you will intersect and align with the main route four historic trails followed over the Continental Divide.

Historic Site Name signs steer you to historic trail sites or segments. Ft. Laramie in Wyoming, originally owned by fur traders, served as an emigrant stop, a military post and in 1860-61 as a Pony Express Station.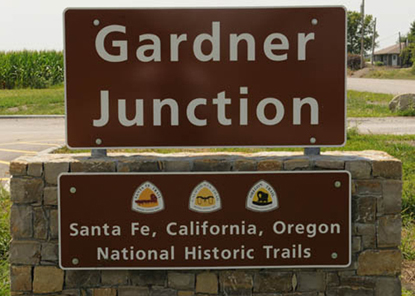 How To Create Your Sign Plan

Find out how to create a custom sign plan for your area by working with National Trails Intermountain Region staff. Read More