National Park Passport Cancellation Stations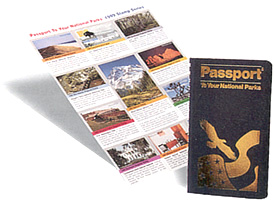 NPS Image
America's natural treasures—our national parks—are presented in one handy booklet with the Passport To Your National Parks program. This 104-page travelogue includes color-coded maps, pre-visit information, illustrations and photographs. Includes a list of every national park area in the United States. Spaces allow you to collect the series of commemorative Passport stamps issued each year.
To purchase a passport book, visit: http://www.eparks.com/store/
Where can you get your passport stamp cancellation?
For a complete list of all stamp cancellation locations go to: http://www.eparks.com/store/content/863/Passport-Cancellation-Locations/
The following locations have the official Pony Express National Historic Trail stamp:
National Trails Intermountain Region
324 South State Street, Suite 200
Salt Lake City, Utah
801 741-1012
***Due to field work, travel schedules, furlough, and personnel vacancies, this minimally-staffed National Park Service office may be closed without notice during regular work hours.

We sincerely apologize for the inconvenience.

Please contact us to request brochures or make an appointment.
Email: ntsl_interpretation@nps.gov
Call: 801-741-1012
Also, at these locations:
NEBRASKA
Homestead National Monument
8523 West State Hwy 4
Beatrice, NE 68310
402-223-3514
http://www.nps.gov/home/index.htm
Chimney Rock National Historic Site
PO Box F
Bayard, NE 69334-0680
308-586-2581
http://www.nps.gov/history/nr/travel/scotts_bluff/chimney_rock.html
Scotts Bluff National Monument
PO Box 27
Gering, NE 69341-0027
308-436-9700
http://www.nps.gov/scbl/index.htm
WYOMING
Fort Laramie National Historic Site
965 Gray Rocks Road
Fort Laramie, WY 82212
307-837-2221
http://www.nps.gov/fola/index.htm
National Historic Trails Interpretive Center
1501 North Poplar Street
Casper, WY 82601
307-261-7780
http://www.blm.gov/wy/st/en/NHTIC.html
NEVADA
Mormon Station State Historic Park
2307 Main Street
Genoa, NV 89411
775-684-2770
http://parks.nv.gov/parks/mormon-station-state-historic-park/
Fort Churchill State Historic Park
16799 Lahontan Dam Road
Fallon, NV 89406
775-577-2345
http://parks.nv.gov/parks/fort-churchill-state-historic-park/
Did You Know?

To carry the U.S. Mail across 1800 miles of wilderness, Pony Express riders changed horses about every 12-15 miles. At each station, the rider would quickly take the mochila with mail pouches from his saddle and throw it onto the saddle of the fresh horse - and off he went. More...