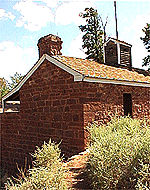 The tower offered a commanding view to the west, east, and south, as well as a portion of the hillside immediately to the north of the fort. But Winsor Castle never served its intended role as a fort staving off attack.
Before the fort was completed in 1872, a peace affirmation was made with the Navajo, the southern tribe the settlers feared the most. You can see in the photo above that the cat-walk system possibly planned below the high gunports was never completed. Without this cat-walk, it would have been very difficult to use the gunports, which are nearly eight feet above floor level.
Later, a door (to the left in the photo above) was installed in the west wall to allow access to the outside. Because Winsor Castle is set back into a low hillside, it is only a single step from this door to ground level. The photo to the left shows both this door and the lookout tower with flagpole on the roof of the west building.