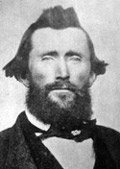 The next day another old Kaibab man was killed. One militia member volunteered to do the deed -
"Damned if I wouldn't like to kill an Indian before I go"
and made haste to "
blow his brains out
." Others unsuccessfully protested the killings -
"I never was so ashamed of anything in all my life-the whole thing was so unnecessary,"
stated Edwin D. Woolley, Jr.
Over the next four years periodic Navajo raids on Mormon settlements in southwest Utah continued along with Mormon reprisals. Kaibab Paiutes were increasingly used by the militia as guides and informants, however they were sometimes mistaken for hostile Navajos and killed. Pipe Spring served as a key outpost for the Mormon militia until the conflict with the Navajo ended.
A Paiute child orphaned by the killings was given the name of "
Tuhdh'heets
," a word meaning "desolate, barren, or naked." The name has been anglicized to "Tillahash," which modern Southern Paiutes say means, "the Beginning and the end of a Family."