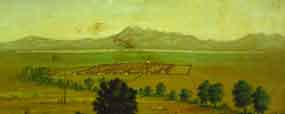 Exploration and Colonization South
Mormon exploration into the region of southwestern Utah, and contact with the Southern Paiute, occurred as early as 1849. Mormon communities sprang up quickly in the area, including St. George - colonized in 1861.
Mormon colonization differed from the individualism of most American pioneering. Settlement parties, or "missions," comprised of skilled workers - blacksmiths, coopers, weavers, farmers, etc. - were carefully chosen. Mormons would first build a fort for protection. Even as houses were built, they were encouraged to live in close proximity, and sharethe products of their labor.