Peach Peeler
What: There are many ways to peel peaches. This is the mechanical version. It is similar to an apple peeler. It has a clamp on the left to attach to a work surface. In 1885, a peach peeler cost about $2.00.

Who: Pioneers used these to prepare peaches for preserving.
Did You Know?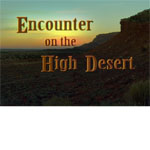 Pipe Spring National Monument has a new video! This video talks about the history and culture of the people who have utilized Pipe Spring: The Ancestral Puebloans, Kaibab Paiute, and the Mormon Pioneers. More...