Chapel Road

Chapel Road is flooding in a few places. For the 3.5 miles northwest of H58 the road is only passable with a four-wheel drive, high clearance vehicle. All other vehicles are sure to be stuck. With the wintery forecast, conditions will deteriorate.
Interagency Visitor Center schedule

The interagency visitor center in Munising will close at 1:30 p.m. on December 23 and 24. The visitor center will be closed on December 25 and January 1.
Where To Eat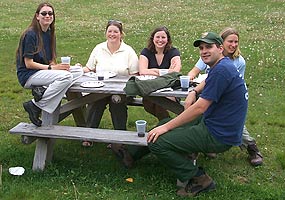 NPS photo
We invite you to enjoy a lunch in the park while visiting Pictured Rocks National Lakeshore.
There are no commercial establishments (restaurants, grocery stores, motels, etc.) within the lakeshore fee boundary, but these services are available in the nearby communities.
Please check with these organizations for more information.
Alger County Chamber of Commerce
P.O. Box 405, 129 E. Munising Ave.
Munising, MI 49862
(906) 387-2138
www.algercounty.org

Grand Marais Chamber of Commerce
P.O. Box 139
Grand Marais, MI 49839
(906) 494-2447
www.grandmaraismichigan.com

Munising Visitors Bureau
P.O. Box 421
Munising, MI 49862
www.munising.org

Upper Peninsula Travel and Recreation Association
P.O. Box 400
Iron Mountain,MI 49801
(906) 774-5480
www.uptravel.com



Did You Know?

There are seven named waterfalls within Pictured Rocks National Lakeshore, plus several unnamed falls. From west to east, they are Munising, Bridalveil, Miners, Mosquito, Chapel, Spray, and Sable Falls. The sandstone outcrops of the Pictured Rocks escarpment create the many waterfalls in the area. More...