Winter road closures

It's winter and most roads are closed by snow. Please use caution wherever you drive your vehicle, and never drive on snowmobile trails. More »
Touring by Motorcoach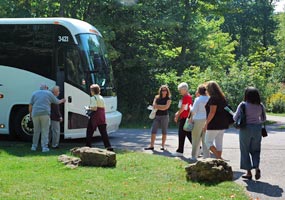 NPS photo
We appreciate the opportunity to work with tour bus operators as their clients enjoy the many facets of Pictured Rocks National Lakeshore. Guidelines for your visit:

Permits
No permits are required at this time for operating within the lakeshore. For further information, contact the Chief Ranger at 906-387-2607, ext. 203.

Pre-Trip Information
The lakeshore can provide your group with a park map and guide, interagency newspaper, and the Pictured Rocks National Lakeshore / Hiawatha National Forest orientation DVD.

Where To Visit?
Areas within the national lakeshore that accommodate tour coaches are limited. The best areas for viewing portions of the park by motor coach are:

Sable Falls
Paved parking
Flush restroom
Trail to waterfall 75 yards 100+ steps to lower waterfall platform

Log Slide
Paved parking (coach parking on backside of loop)
Pit toilet
Trail to overlook 150 yards
Interpretive signs on forests and logging

Lake Superior Overlook
Paved parking
Pit toilet
Viewing platform
Beach access

Miners Castle
Paved parking (use back loop beyond automobile parking)
Flush restroom
Trail to three overlooks, 75 yards, 150 yards, 250 yards lower overlook
Information center and bookstore
Interpretive signs on geology, human history, Grand Island

Munising Falls
Paved parking (use farthest RV parking)
Flush restroom
Trail to waterfall viewing platform - 250 yards

Lakeshore facilities not well suited for motor coaches due to limited parking and facilities.
Interagency Visitor Center (Munising) - limited parking
Miners Beach
Miners Falls
Chapel-Mosquito area
Little Beaver Lake - size restrictions in effect
Beaver Basin overlook
Twelvemile Beach Campground
Hurricane River Campground
Grand Sable Visitor Center (Grand Marais) - limited parking

Did You Know?

Pictured Rocks National Lakeshore is America's first National Lakeshore, authorized on October 15, 1966. On the same day, President Lyndon B. Johnson also signed into law another piece of landmark legislation -- the National Historic Preservation Act. More...