Grand Sable Dunes temporary closure to all public entry for visitor safety

Grand Sable Dunes are rapidly eroding into Sable Creek and Lake Superior. The area from the trail to the Grand Sable Dunes north to the beach along Lake Superior to the west side of Sable Creek is temporarily closed. Follow closure signs for your safety.
Swimming & Diving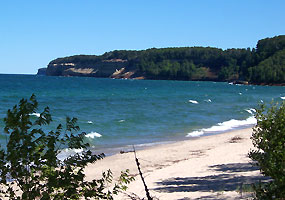 NPS photo by Ed Lasich
Swimming and Wading
The clean and clear waters of Lake Superior are tempting, though the water is typically cold for even the hardiest swimmers. The
Sand Point
beach area tends to be warmer for swimming than other lakeshore beaches.
There are no lifeguarded beaches at Pictured Rocks National Lakeshore or its surrounding communities.
Rip currents
can and do occur, and may change locations from year to year. Please use extreme caution if you choose to venture into Lake Superior waters.
Beach
fires
are only permitted in the designated metal fire ring at Sand Point; fires are not allowed on other beaches. Glass containers are prohibited on all beaches.
Pets
are allowed in designated areas; please know the regulations.
Please help keep our beaches clean.
Scuba Diving and Snorkeling
Some of the best scuba diving in the Midwest can be found in and around Pictured Rocks National Lakeshore. Snorkeling and scuba diving are permitted throughout the park.

Scuba diving is popular in Lake Superior, especially within the Alger Underwater Preserve, a state preserve created to protect the submerged cultural resources. State and federal regulations prohibit the removal or disturbance of relics, artifacts, or historic features.

Always use a dive flag to mark your location.

For more information ...
Boating
Shipwrecks site bulletin (pdf)




Did You Know?

The Grand Sable Dunes are a federally designated Research Natural Area. The five square miles of dunes are an unusual glacial kame terrace with overlying dunes caused by fluctuating lake levels over the centuries. The dunes are located in Pictured Rocks National Lakeshore, near Grand Marais, Mich. More...