Post Office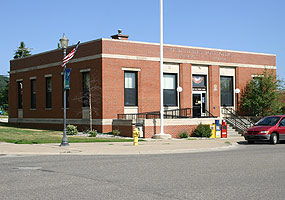 NPS photo by Ed Lasich
Pictured Rocks National Lakeshore is located on the south shore of Lake Superior between the communities of Munising and Grand Marais.
There are several post offices in the area.
E21815 Grand Marais Avenue, Grand Marais, Michigan 49839
10790N Grand Street, Seney, Michigan 49883
E12503 State Highway M-28, Shingleton, Michigan 49884
E9714 State Highway M-28, Wetmore, Michigan 49895
220 Elm Avenue, Munising, Michigan 49862


Did You Know?

Mineral stains give color to the famous cliffs of Pictured Rocks National Lakeshore. Red and orange colors are iron, black is manganese, white is limonite, and green is a trace of copper. There are no pictographs or petroglyphs on the Pictured Rocks cliffs (that we know of). More...