Passport Stamps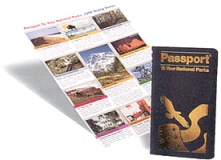 America's natural treasures -- our National Parks -- are presented in one handy booklet with the Passport To Your National Parks program.
This travelogue includes color-coded maps, pre-visit information, illustrations and photographs. It includes a list of every national park area in the United States.
Spaces allow you to collect the series of commemorative Passport stamps issued each year. Pictured Rocks National Lakeshore was featured on the 1988 set of Passport Stamps.
The Passport program began in 1986 by Eastern National to help visitors discover the beauty and history found in America's national parks. Cancellation stamps can be found at most national park areas. These rubber-stamp ink markings record the name of the park and the date of your visit.
Did You Know?

Mineral stains give color to the famous cliffs of Pictured Rocks National Lakeshore. Red and orange colors are iron, black is manganese, white is limonite, and green is a trace of copper. There are no pictographs or petroglyphs on the Pictured Rocks cliffs (that we know of). More...