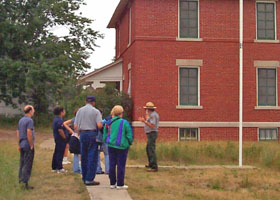 NPS photo
Au Sable Lighthouse Guided Tours


Au Sable Light Station
tours are scheduled Wednesday through Sunday,
June 7, 2014, through September 20, 2013.
No tours on Monday and Tuesday.
Saturday, September 20, is Au Sable Day.

Update for October 2014 -- Lighthouse guided tours will continue until October 15.


Tour times are 11 a.m., 12 p.m., 1 p.m., 2:30 p.m., 3:30 p.m., and 4:30 p.m.
The 30-40 minute Park Ranger guided tour begins at the lighthouse front porch. Check with the Ranger for the next tour time. Tour
fee
is $3 for those 6 and older.
Correct change is greatly appreciated.

Lighthouse visitors are reminded that the area includes very sandy soils, narrow sidewalks, and only the boathouse is accessible at ground level. The other buildings require climbing steps.
To reach the Au Sable Light Station, take the trail east from the Hurricane River Campground. It is a three mile round trip hike. Bicycles and pets are not permitted.