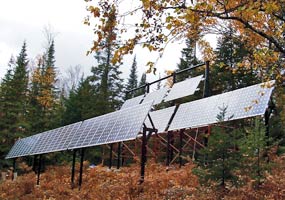 NPS photo
Au Sable Light Station Photovoltaic Power System

The remote location of the historic 1874
Au Sable Light Station
has always required on site power generation.
With an automated light and no longer a Coast Guard operated facility, providing electric power to the site has been a significant obstacle in the Lakeshore's ability to realize planned visitor services and site development.
With the assistance of a "Renew the Parks" partnership grant from the U.S. Department of Energy's
Sandia National Laboratories
, construction of a photovoltaic power system was undertaken in 1998. The system provides five kilowatts of photovoltaic power for:
1. Basic seasonal residence amenities for lighting, kitchen appliances, and water heating.
2. Lighthouse and associated building room exhibit lighting and audio-visual equipment power.
3. Water well and fire suppression pumps.
4. Fans for the additional component of this project, a geothermal system to pre-heat air to circulate throughout the lighthouse to minimize freeze thaw damage during the winter.


With construction of this electric utility net, subsequent site restoration can be completed while staying within the capacity of the new power system.