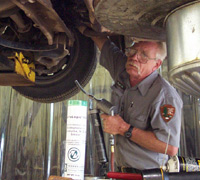 NPS photo
Converting to Bio-Soy Products
Pictured Rocks National Lakeshore chose to use bio-soy products because they meet the above goals, are easily substituted, are safer for employees to handle, and are biodegradable in case of a spill or release.
Since June 2000, all park diesel equipment has been fueled with B-20% blend of soy diesel. fuel blend. In addition to meeting the program goals, soy-diesel results in greater lubricity, cleaner burning engines and lower emissions. In addition, hydraulic oil in the shop vehicle lift, and heavy equipment hydraulic and trans-hydraulic fluid systems were replaced with soy hydraulic fluids.
All two-cycle grounds equipment, pre-mix outboard motor patrol boats, and cross-country ski trail groomers have been using soy two-cycle oil. Soy-based penetrating fluid, parts washing fluids, and chassis grease are also being used in shop operations.
Seven of the park's vehicles are now field testing a soy/synthetic blend of engine oil. Bio-soy lubricants and fluids have been put into service in the following equipment and vehicles.
| | |
| --- | --- |
| 10 ton International dump truck | soy hydraulic |
| 5 ton International dump truck | soy hydraulic |
| Two Ford 555 backhoe loaders | soy hydraulic, soy transmission |
| John Deere crawler dozer | soy hydraulic, soy transmission |
| Gallion grader | soy hydraulic, soy transmission |
| John Deere utility tractors | soy hydraulic, soy transmission |
| John Deere tractor mowers | soy hydraulic, soy transmission |
| Snowmobiles | soy two-cycle oil |
| Outboard boat motors | soy two-cycle oil |
| Diesel/gasoline engine vehicles | soy crankcase oil |
| Grounds equipment | soy two-cycle oil |
| Chainsaws | soy two-cycle oil, bar & chain oil |