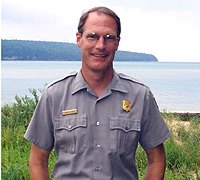 NPS photo
2001 Director's Award for Excellence in Natural Resource Stewardship through Maintenance
Chris V. Case, Facility Manager at Pictured Rocks National Lakeshore, Michigan, received the 2001 National Park Service Director's Award for Excellence in Natural Resource Stewardship through Maintenance. Case has led the Maintenance Division and park staff in the application of "green" technologies at the park. He has researched, developed, and introduced a comprehensive program encompassing sustainable energy, parkwide recycling, "biofluids" conversion, and product inventory and standardization.
His efforts resulted in the conversion of hand-operated campground water pumps to solar, chlorinated well-pump systems. development of a solar power grid system for seasonal employee housing. and conversion of diesel additives and hydraulic fluid to soy-based biofluids in vehicles.
Case has worked closely with Sandia National Laboratory, the U.S. Department of Energy, solar contractors, and the Michigan Soybean Promotion Council in applying these technologies in the park.
Like other award recipients, Case believes that the innovations for which he and the park have been recognized are the result of the work of a team of committed people. "The enthusiasm of the staff is what has made the difference," according to Case. "Three-fourths of our green program success was accomplished without additional cost. It was human energy."