Thank you for your interest in employment at Pictured Rocks National Lakeshore.

A wide variety of exciting and challenging employment opportunities await you at Pictured Rocks. We fill positions in many fields, including interpretation, maintenance, resource management, education, law enforcement, and visitor services. All focus on working with the public, and some involve working outdoors. Each job performs a vital function of providing visitors an opportunity to enjoy a unique experience, while working hard to preserve natural and cultural resources for future generations.

We encourage all interested and qualified persons to apply for jobs. We want a workforce that reflects the diversity of America. You must be a United States citizen to be eligible for consideration for employment. Certain jobs may also have age and physical qualifications. Generally, you must be at least 18 years of age. The National Park Service fills all positions in accord with U.S. Office of Personnel Management (OPM) regulations.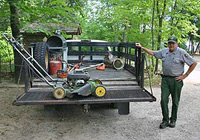 NPS photo / Ed Lasich
How Jobs Are Filled
Federal agencies fill jobs in several ways and not all jobs are open to external applicants. Agencies can promote an employee, hire an employee who wants to transfer from another agency, reinstate a former Federal employee, or request the names of applicants from an OPM register.
Employment Opportunities with the NPS
(pdf)
Seasonal Employment Information
(website)
Current Job Openings
Please search for jobs at Pictured Rocks National Lakeshore at www.usajobs.gov

Narrow your search by typing Munising, MI, or Grand Marais, MI, in the "where" box OR type "Pictured Rocks" as key words.

Recruitment for seasonal/temporary positions typically occurs in January and/or February of each year. Please check USA Jobs regularly.

--------------------------------------
Permanent position



--------------------------------------
Temporary positions

Engineering Equipment Operator
WG-08
Open: November 12, 2014
Close: November 20, 2014
https://www.usajobs.gov/GetJob/ViewDetails/386243200

Visitor Use Assistant (Fee Collection)
GS-0303-05
Open: November 14, 2014
Close: November 18, 2014
https://www.usajobs.gov/GetJob/ViewDetails/385714900


--------------------------------------

Your Application
If you are pursuing your first Federal Government position, the best source of information is the job announcement. It will explain what the job duties are, what experience or education is necessary to qualify, the pay, and where to send your application. The application process usually consists of two parts: the OF-612 application or resume, and the Knowledges, Skills, and Abilities.
Visit
USAJOBS
, the Federal Government's one-stop source for Federal jobs and employment information.
Preparing an Application for Federal Government Employment
(pdf)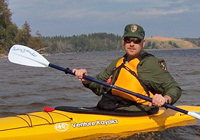 NPS photo
Equal Opportunity
The National Park Service is an Equal Opportunity employer. Selections for positions are on the basis of merit, fitness, and qualifications without regard to race, sex, color, creed, age, marital status, national origin, sexual orientation, non-disqualifying handicap conditions, or any other non-merit factors.