Ranger Programs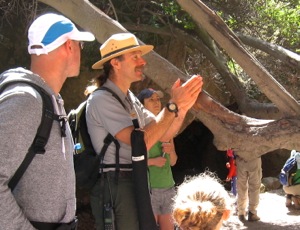 NPS Photo | Martha Willoughby
Ranger programs are a fun way to enhance your experience at Pinnacles National Park. Programs are generally offered on weekends (at both the East and West sides of Pinnacles) from President's Day Weekend in February through the end of May. Evening programs are offered on the east side of the park at Pinnacles Campground Friday and Saturday evenings from early January through Labor Day.
All ranger programs are FREE. Upon your arrival to the park, ask a park ranger or consult one of the Ranger Activity Boards located outside the Pinnacles Visitor Center, the Bear Gulch Nature Center, or the West Pinnacles Visitor Contact Station for the day's opportunities.
Special programming, including the West Pinnacles Speaker Series, night hikes and other unique Pinnacles events are also scheduled through out the year. Please check the Schedule of Events page to find out if they are occuring during your visit!
2013 East Pinnacles Ranger Program Schedule:
Friday and most Saturday Evenings, 30-45 minutes (Mid-february through Labor Day weekend). Program times vary each month:
| | | | | |
| --- | --- | --- | --- | --- |
| February | March | April | May - June - July | August |
| 7:00 p.m. | 7:30 p.m. | 8:00 p.m. | 8:30 p.m. | 8:00 p.m. |
Evening programs happen at the Pinnacles Campground Amphitheater; and the presentation topics are ranger's choice. Please check the 'Ranger Activity' bulletin boards in front of the Pinnacles Visitor Center or the Bear Gulch Nature Center.

2013 West Pinnacles Program Schedule:


2013 Summer Speaker Series
THANKS FOR JOINING US! If you have ideas for speakers on any of the monthly topics we have for June, July and August let us know.
Hope we see you back for the 2014 Speaker Series.




Did You Know?

California condors have a wingspan approaching nine and a half feet. Condors soar and glide at up to 55 miles per hour, and can sometimes be mistaken for a small airplane. More...