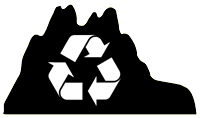 In recent years, Pinnacles National Park has generated over 50 tons of solid waste per year. More than 3/4 of this waste comes from park visitors. As with the rest of California, the park was mandated to divert at least 50% of its waste from the landfill.
The most sustainable practice to achieve this goal is to Reduce what you bring into the park to only what is essential and reusable and to take back what is left to Reuse, Recycle and Rot (compost) at your home.
The next step is to participate in the recycling program. We've made it easier for you to do your share by placing many more cans all around the park, identified by the symbol above. You can deposit all your recyclable material without separating them, but please do not put in plastic bags or film, polystyrene (i.e., styrofoam), or food-contaminated material.
By working together toward this goal, we can reduce the amount of energy and raw material used to make these products as well as save space in our ever-decreasing landfills.
Hike, climb, picnic and RECYCLE!