No Fires - Fire Danger Extreme - No Fuego

No Fires in the campground, no smoking on the trails. Observe these rules to protect park resources. No se permite fumar en los senderos, tampoco se permite las fogatas en el campamento. Proteja los recursos del parque y respete las advertencias.12/1/13 More »
Camping at Pinnacles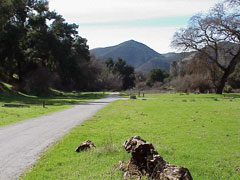 Pinnacles Campground is located on the east side of the Park and offers tent and group camping, along with RV sites. Each tent and group site has a picnic table and fire ring. Most RV sites have electrical hookups and share community tables and barbecue pits. Water is located throughout the campground. Oak trees provide shade many campsites. Showers and a dump station are available. The swimming pool is typically open from middle of April through the end of September, depending on the weather trend. Pets are allowed in the campground, on paved roads and parking lots. Pets are not allowed on trails. Your pet must be physically controlled on a six foot leash. Your pet should be with you at all times.
Pinnacles Campground and the Campground Store (831) 389-4538 are operated by Royal Elk Park Management, INC.
The Campground Store hours:
Sunday-Thursday 3:00pm - 5:00pm,
Friday 3:00- 8:00pm

Saturday 8:30am - 5:00pm.
Tent and RV sites can be reserved up to 6 months in advance, and group sites can be reserved up to 12 months in advance.

For reservations, please visit recreation.gov or call (877) 444-6777.
For more information, please call the Pinnacles Campground Store at (831) 389-4538.
No Fires in the campground (no charcoal, wood or fireworks), no smoking on the trails. The fire danger in the area is very high. Observe these rules to protect park resources and have an enjoyable visit.
Did You Know?

Rhyolitic breccia is the rock that the High Peaks and other rock formations at Pinnacles are made of. Rhyolite breccia is composed of lava sand, ash, and angular chunks of rock that were explosively ejected from the Pinnacles Volcano.