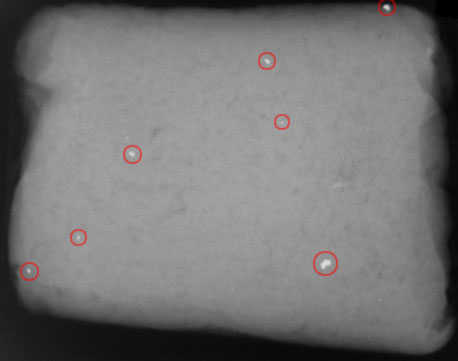 Human Health Concerns
Studies are increasingly showing that lead fragments can also be found in wild game meat processed for human consumption, even though best attempts are made in the field to remove sections that are within the bullet wound channel.
A
recently published scientific study
examined the prevalence of lead bullet fragments in packaged venison. Thirty different white-tail deer were harvested using lead rifle bullets and then given to 30 different game meat processors. Researchers randomly selected 324 packages of ground venison and whole cuts from the processors and x-rayed them to document how many contained lead bullet fragments. Of the 324 randomly selected packages of ground venison, 34% contained metal fragments; some packages contained as many a 168 separate pieces. Further analysis positively identified the metal as 93% lead and 7 % copper.
Also, when these tainted packages were fed to domestic pigs, blood levels became elevated with 2 days of ingestion. This demonstrates that while the results are preliminary and much further study needs to be done to better assess risks to humans, it appears that the if lead bullets are used, odds are high that you will ingest lead particles in ground game meat.