306
Condor 306 is the oldest condor in the Pinnacles flock. Her hatch date was 5/4/03 at the San Diego Wild Animal Park. She is also the older sibling of 335. Since her release in October, 2004, she became a well integrated and relatively dominant member of the flock. Biologists selected her to be outfitted with one of the GPS transceivers. In the spring of 2012, 306 became part of a trio of birds caring for a nestling. She has joined up with Condors 222 and 251, both originally released in Big Sur. All three birds successfully reared fledgling condor 664 in 2012 and attempted to nest again in 2013. 306 died in June 2013. Necropsy results are still pending.

307
During the October 2004 release event, 307 delighted the crowd with her graceful flight away from the release pen. She was hatched at the LA Zoo on 5/5/03. Equipped with a GPS transceiver, she continued to be one of the most adventurous condors in the flock and was always expanding her range which included San Benito, Monterey, Merced, Fresno, Kings and San Luis Obispo Counties. She underwent multiple rounds of chelation and was released back into the wild. Unfortunately, she was found dead of unknown causes in May of 2007.

312
Just three days after 310, Condor 312 hatched on 5/14/03 at the LA Zoo. She was tracked with a GPS transceiver and was known to spend a lot of her time along the Big Sur Coast. She and 310 were the first birds to fly from Pinnacles over to Big Sur in 2006. 312 attempted breeding for the first time in 2013. Unfortunately, she died of lead poisoning during the early stages of nesting.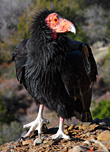 Copyright 2011 Gavin Emmons
313
The older sibling of 332, this condor hatched just a day after 312, also at the LA Zoo. Condor 313 was the oldest male from Pinnacles and typically tipped the scales as one of the heaviest birds in the flock. A very dominant bird, he usually fed first, roosted in one of the best perches and was often seen bullying other condors to assert his dominance and affirm his position near the top of the hierarchy.
He also successfully nested in 2009 with a Big Sur female, condor 303. He is the foster parent to 514. He successfully re-paired after the death of his mate 303 in 2009. In 2011 he was again successful at fledging a nestling. He is the foster parent to 598 along with his new mate, Big Sur female 375. Sadly, 313 died in August 2013. Necropsy results are still pending.

332
Hatched on 4/21/04 at the LA Zoo, this condor is also a younger sibling of 313. 332 is also a survivor; in the summer of 2007, he was seen with a large infected gash along his wing edge. He was taken into captivity and treated, but the veterinarians could not be sure if he would fly again. He was released after a few months and has been flying without any changes in behavior or flight since then. Each year 332 set up a breeding territory outside of the park, but so far has been unable to find a suitable mate. Unfortunately, 332 died of lead poisoning in July of 2013.

Copyright Gavin Emmons 2008
335
A younger sibling of 306, this condor hatched on 4/23/04 at the San Diego Wild Animal Park. Along with many of the other birds, 335 frequently made trips to the coast and back. 335 died from lead poisoning in the summer of 2013.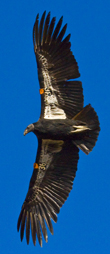 Copyright Gavin Emmons 2008
336
On 4/28/04, condor 336 hatched at the San Diego Wild Animal Park. Condor 336 was the only female of its cohort and had the smallest range of all the Pinnacles birds. Unfortunately, Condor 336 died in early September, 2008. It was found shaking and weak, and extremely underweight in Big Sur, California. Blood tests showed Condor 336 had high levels of lead (Pb) in it's system and was rushed to the LA Zoo for emergency treatment. Nevertheless, the condor's health continued to degrade and it finally succumbed to lead poisoning less than two days later.

Copyright Gavin Emmons 2008
345
Hatched on 5/16/04 at the San Diego Wild Animal Park, 345 was initially a very submissive bird, but started moving up in rank as younger birds were released. He split most of his time between Pinnacles and the Big Sur Coast. In 2013, 345 attempted breeding with condor 400. This was the first pair consisting of both Pinnacles released birds. Sadly, the nest failed after 345 died of lead poisioning in June of 2013.

Copyright Gavin Emmons 2008
400
The oldest of the 2007 cohort from the World Center for Birds of Prey (Boise, Idaho), condor 400 hatched on 4/11/06. The only female from this cohort, she and 401 were the first to released in their cohort and began exploring the free world on the same day in April 2007. In 2010, 400 was found to have extremely high levels of lead in her blood. She was taken to the L.A. Zoo where she had surgery to remove a lead fragment. After returning to the wild, 400 had her first nesting attempt in 2013 with condor 345. The nest unfortunately failed after 345's death. 400 was found suffering from lead poisoning in April 2014 and taken to LA Zoo for emergency treatment. She succumbed to lead poisoning later that month.

401
Another condor hatched by The Peregrine Fund at the World Center for Birds of Prey, 401 cracked out of his shell and emerged into the world on 4/13/06. Condor 401 has the distinction of being the first one from the 2007 cohort to make it to the Big Sur coast and was also first one of the '07 cohort to become a free-flyer. During the summer of 2014, 401 was found suffering from lead poisoning, taken to LA Zoo for emergency treatment, and died shortly after.

NPS
411
Condor 411 hatched 4/26/06 at the World Center for Birds of Prey. He is a male from the 2007 cohort. Generally a more submissive bird, he spent the majority of his time inside the park. He was also a great mentor for newly released birds. As a low ranking bird, he often spent time with the lower ranking birds, showing them the good roosting sites around the park. 411 died in December of 2014. Necropsy results are pending.

422
422 was raised at the LA Zoo, and was the least aggressive of the juvenile condors in the 2008 cohort. 422 was a female and hatched on May 14, 2006. She was released from Pinnacles' flight pen on January 4, 2009. After only six months in the wild, 422 was found dead of unknown causes.

451
The largest and most dominant condor of the 2008 cohort, 451 was also hatched (5/15/07) in Boise and was among the condors rescued from the Big Sur fire. He was the first of the 2008 cohort to be released, along with 448. He extended his range and used areas south of the park regularly. In December 2013, 451 was found dead. Necropsy results are pending.

NPS Photo By Jess Auer
478
Hatched on April 23, 2008 at the World Center for Birds of Prey, 478 was released at Pinnacles on October 3, 2009. 478 was parent-reared and is the younger sibling 448. This male juvenile stayed close to H'oi (our male adult mentor bird) while acclimating in our flight pen. The mentor helps instill appropriate behavior in the juveniles. 478 seems to be the least dominant of the 2009 cohort and got pushed from the "best" perches in our flight pen if he strayed from H'oi's side. 478 ventured outside of the park soon after his release. In April of 2012, he was found outside of the park partially paralyzed, emaciated, and suffering from severe lead poisoning. We were able to capture him and take him to the LA Zoo for treatment, but he was too ill to recover.

NPS Photo by Paul Johnson
588
Another male hatched May 27, 2010 in Boise, ID at the World Center for Birds of Prey. They grow them big in Boise, 588 was the largest bird in the 2011 release group. That follows in the footsteps of older sibling 451 who was the largest bird in the 2008 release group. After making quite the debut by being released during the public Condor Comeback release event in September 2011, 588 has taken to spending most of his time outside of the park exploring the rolling hills of San Benito County. Unfortunately 588 was found dead in July 2012, only ten months after being released. Necropsy results were inconclusive.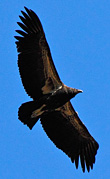 598
313 and his new mate 375 (originally released by Ventana Wildlife Society) successfully fledged a young condor in 2011. 598 hatch on April 5, 2011 in a wild nest in San Benito County. After much nurturing from both of her foster parents, she fledged from the nest in October 2011. Since then she has regularly been seen visiting Pinnacles and the nearby hills. 598 died in December 2012 of unknown causes.