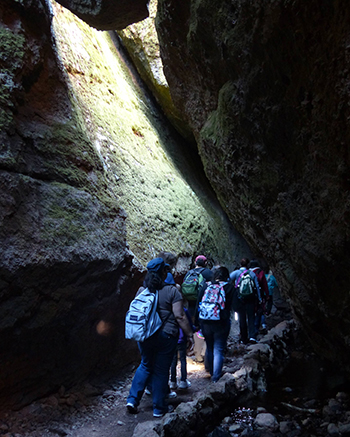 NPS Photo | Sierra Willoughby
Let's Go on a Field Trip to America's Newest National Park!
Did you know that you can bring your students to Pinnacles National Park for a ranger-guided or teacher-guided field trip? Ranger-led programs are offered Monday through Thursday each week (reservation required).

To learn more about education programs offered in the park, including the application process, logistics, and how to prepare you and your students for this inspiring outdoor classroom, please take a look at the Pinnacles National Park Educator's Preparation Guide.
Please contact the park two months in advance to make a reservation for a ranger-led field trip. All field trips require an Education Fee Waiver application.
Entrance Fee Waiver For Educational Field Trips
Visits from accredited educational institutions can have park entrance fees waived. You will need to apply for a fee waiver and send or Fax in your application to:
Pinnacles National Park
Attn: Education Programs
5000 Hwy 146
Paicines, CA 95043
(831)389-4486 ext.262 Office
(831)389-4288 Fax
Allow 60 days for your application to be processed.
NOTE: All space available has been reserved through the end of April. Pinnacles is now taking applications for ranger programs for a few spots open in early May and we are fully open for the fall 2014 season.
Camp Pinnacles
Camp Pinnacles is an overnight science camp for fourth grade students held at Pinnacles National Park. Find out More.