Closed fo the Season

The Memorial is currently closed for the season. The Memorial will reopen on May 17, 2014. See you then!
Things To Do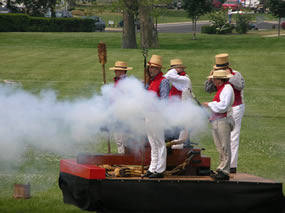 NPS Photo
Rising 352 feet above Lake Erie, Perry's Victory and International Peace Memorial is the most dominant feature of the Lake Erie Islands. Interred beneath the rotunda floor are the remains of the three American and three British officers who were killed during the Battle of Lake Erie. Carved in the rotunda walls are the names of Perry's vessels along with the names of the Americans who were killed or wounded in the battle. After a climb of 37 steps to the lower landing, an elevator takes visitors to an open air observation deck 317 feet above Lake Erie. On a moderately clear day the observation deck offers a panoramic view of the Lake Erie Islands and the shorelines of Ohio, Michigan, and Ontario. Due to the design and nature of the historic structure, visitors unable to climb the steps may experience the
view from the 340 foot level
of the monument, in each of the 4 directions, on the real-time monitor in the visitor center.
From mid-June through the end of August, Park Rangers offer interpretive talks about the Battle of Lake Erie, the War of 1812, construction of the monument, and other topics of interest. Talks normally occur on the plaza at the base of the Memorial and are usually offered on the hour from 11 a.m. to 5 p.m.
On weekends, Rangers offer living history demonstrations. Dressed in War of 1812 military and civilian uniforms, Rangers present talks about the Battle and the war, concluded with a firing demonstration of reproduction flintlock muskets. On scheduled weekends there are firing demonstrations of a reproduction 32-pounder carronade.


Did You Know?

The United States went to war against Great Britain in an unprepared state. When war was declared on June 18, 1812 the Royal Navy possessed three warships for every U.S. naval gun. The British Navy outnumbered the U.S. Navy 17 to 1.