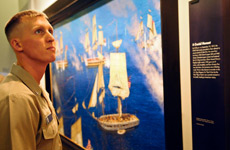 Explore the Visitor Center
The Perry's Victory Visitor Center offers a variety of art, exhibits and artifacts from the Battle of Lake Erie. The 15 minute film which covers the history of the battle is shown regularly throughout the day. The Visitor Center and film are free and open to the public. Doors are open 10 a.m. to 5 p.m. daily.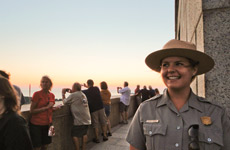 NPS Photo
Visit the Memorial
Rising 352 feet above Lake Erie, Perry's Victory and International Peace Memorial is the most dominant feature of the Lake Erie Islands. Interred beneath the rotunda floor are the remains of the three American and three British officers who were killed during the Battle of Lake Erie. Carved in the rotunda walls are the names of Perry's vessels along with the names of the Americans who were killed or wounded in the battle. After a climb of 37 steps to the lower landing, an elevator takes visitors to an open air observation deck 317 feet above Lake Erie. On a moderately clear day the observation deck offers a panoramic view of the Lake Erie Islands and the shorelines of Ohio, Michigan, and Ontario. See the virtual view here.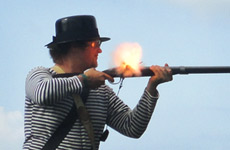 NPS Photo
See a Black Powder Demonstration
Firing demonstrations of reproduction flintlock muskets take place ever Friday, Saturday, and Sunday on the hour from 11:00 a.m. to 4:00 p.m. On scheduled weekends there are firing demonstrations of a reproduction 32-pounder carronade.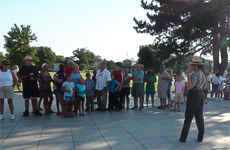 Nps Photo
Go to a Ranger Program
Park Rangers offer interpretive talks Monday through Thursday on a wide array of topics from the Battle of Lake Erie, the War of 1812, construction of the monument, natural sciences, and more. Talks normally occur on the plaza at the base of the Memorial and are offered on the hour from 11 a.m. to 4 p.m. The daily programs will be listed in the Perry's Victory Visitor Center.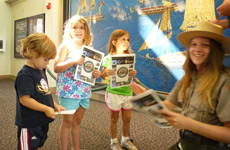 NPS Photo
Become a Junior Ranger
Come to the Visitor Center to get a fun and free Junior Ranger activity booklet which helps you explore and learn about the park. You can earn your very own badge and become an official Junior Ranger when you finish! There are also special Kid's programs with educational, hands-on activities offered daily at 1:00 p.m.