Closed fo the Season

The Memorial is currently closed for the season. The Memorial will reopen on May 17, 2014. See you then!
Special Events
April 20 Easter Sunrise Ecumenical Service
Service to begin at 6:30 a.m. on Perry's Victory grounds. Please bring lawn chair.
May 20 - 22 Commodore Perry Education Days
School groups field trip to Perry's Victory to learn about the War of 1812.
May 24 Memorial Day Ceremony
Commemorative ceremony featuring guest speakers and musket salutes. Check back for times.
June 21 Mayfly Festival
Learn about the pesky but important mayflies, with science stations and crafts.
June 23 - 28 Arts on Erie
A week long series of children's creative workshops in dance, music, painting and more.
July 5 Freedom Concert
Free concert held on the back porch of Perry's Victory Visitor Center.
August 22 - 24 Happy Birthday Commodore Perry!
Celebrate the life of Perry with carronade demonstrations, and living history encampment.

September 6 - 7 Historic Weekend
Weekend long event to commemorate the 201th anniversary of the Battle of Lake Erie.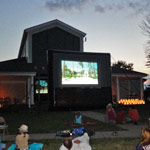 Movies at the Memorial
For the entire month of August Perry's Victory will be showing films on Saturdays nights. Check back to see what will be playing. Movies will begin at dark. Don't forget to bring a chair or blanket.
Did You Know?

With the Amherstburg blockade by Oliver Hazard Perry, British commander Robert Barclay's supply line was cut. He needed food and equipment for his new flag ship the Detroit. By September 9, 1813 he was down to a day's ration. So he removed the cannons from Fort Malden and placed them on the Detroit.