Special Events
Happy Birthday Commodore Perry!
Saturday - Sunday, August 23-24
This year Commodore O.H. Perry's birthday will be celebrated with a spectrum of fun and educational programs here at the park. Festivities will include a historic encampment with hands on learning stations, live musical performance by Fiddlesix, theatrical performaces, 1812 dance, and of course the booms and blasts of black powder as reenactors shoot the muskets and carronade. Feel free to show off your own Regency era threads, there will be many to compare and contrast fashions of the day. The evening will end with the showing of the film Master and Commander on the back lawn. See the full schedule here>>
Perry's Victory Heritage Festival
September 5 - 7
In honor of the 201st anniversary of The Battle of Lake Erie, Perry's Victory will host a weekend of learning and remembrance. Joining us in the commemoration will be representatives from the U.S. Navy and Parks Canada reenactors. The grounds will be bustling with activity from living history stations, to military drills, to 1812 dance, music and much more. See the full schedule here>>
Weekend highlights:
September 6
9:15 am: Wreath Laying at Battle Site
2:15 pm: Historic Weekend Parade
3 pm: Military Tactical
4 pm: Retracing History: A 1812 Conversation
6 pm: Toledo Symphony Concert
Dusk: Lights of Peace--Harbor Illumination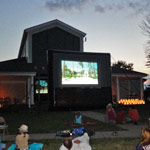 Movies at the Memorial
For the entire month of August Perry's Victory will be showing films on Saturdays nights. Movies will begin at dark. Don't forget to bring a chair or blanket, and bug spray.
August 2
The Lorax
Based on the 1970's classic, The Lorax follows the story of Ted, who will do anything to anything to find a real Truffula Tree in order to impress the girl of his dreams. Join us for the ranger program where you can pot your own plant while learning about conservation in the Great Lakes.

August 9
The Iron Giant
An enormous robot from deep space has crash landed on Earth. It is up to a 11-year-old boy named Hogarth to teach him about being human, and to protect him from the townspeople who fear the giant. Before the movie you can come to the ranger program to learn about peace. Peace isn't something that just happens, it is something we work for!
August 16
Rango
Rango is an ordinary chameleon who accidentally winds up in the town of Dirt, a lawless outpost in the Wild West in desperate need of a new sheriff. The ranger program will focus on the dangerous that threaten our water resources. Join us and become water wise!
August 23
Master and Commander
During the Napoleonic Wars, a brash British captain pushes his ship and crew to their limits in pursuit of a formidable French war vessel around South America. What did the movie get right? What did it get wrong? Find out with one of the park historians, and learn how the movie relates to The Battle of Lake Erie.
August 30
Night at the Museum
The new night security guard at the Museum of Natural History discovers that an ancient curse causes the animals and exhibits on display to come to life. A fun ranger program about working in a museum will begin at 8 pm.