Closed fo the Season

The Memorial is currently closed for the season. The Memorial will reopen on May 17, 2014. See you then!
1812 Dress Workshop

June 29 - 30 (Two Day Workshop)

9 a.m. - 5 p.m.

At Put-in-Bay Town Hall
Collaborate with historical fashion expert to create your dream 1812 garment or order a custom gown that will stand out at upcoming bicentennial events.
Each participant will have the opportunity to trace an 1812 "Empire" period dress pattern, and learn how to masterfully assemble it. We will also explore some of the accessories and hairstyles that were in fashion at the time. Seamstresses will be available to take custom orders and measurements for dresses by appointment.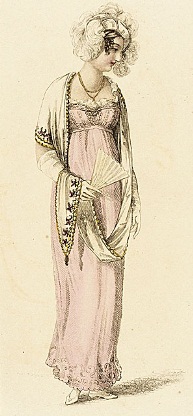 To Order A Gown
If you wish to order a custom made gown all you have to do is schedule an appointment to meet with a seamstress between 9 a.m. and 5 p.m. June 29th or 30th. Prices will vary depending on the specifications of your frock.
To Make A Dress
Attend the two-day workshop to get step by step help as you work your way through an 1812 pattern. The class and patterns are free, but you will need to provide the following supplies:
- Sewing Machine
- Pins & Needles
- Scissors
- Scotch Tape
- Measuring Tape
- Tissue Paper (for pattern tracing)
- Pencil or Pen
- Measuring Tap
- Fabric & Matching Thread
- 5 buttons (3/8" with a silver or bronze look)
- Basic Sewing Knowledge
Reserve a Spot!
Registration is required for workshop and dress ordering consultations. To secure your spot:
E-mail

Park Ranger Trudy Roth or

Call Trudy at 419-285-2184
About the Fabric
The fabric you choose should be a solid color cotton, linen, muslin, or cotton linen blend. You will need the following length of fabric depending on size and desired sleeve style:
Sleeve Length
Sizes 8 - 14
Sizes 16 - 18
Short Sleeves

3 1/4 yds 45" wide or
2 1/2 yds 60" wide

3 3/8 yds 45" wide or
2 3/4 yds 60" wide
Long Sleeves
3 3/4 yds 45" wide or
2 5/8 yds 60" wide
4 yds 45" wide or
3 1/4 yds 60" wide

Directions to Put-in-Bay Town Hall
The village of Put-in-Bay is located on South Bass Island and is most often accessible by ferry boats, airplanes, airboats, and private boats.
Ferry Services:
From Port Clinton: The Jet Express passenger ferry, take SR 2 to SR163/Port Clinton exit and follow the signs to the Jet Express.
From Sandusky: The Jet Express passenger ferry, take SR 2 to SR250 N/Sandusky exit and follow the signs to the Jet Express.
From Catawaba Island: Miller Boat Line passenger and vehicle ferry, take SR 2 to SR53 N/Catawba Island exit and to the Miller Boat Line.
Once on the island there are several taxi companies and island tour trains available for travel. There is also a bus line that runs between the Miller Boat Line and the village of Put-in-Bay. The Jet Express dock are within walking distance of Town Hall. The Clock Tower Town Hall building is located on Catawba Ave. across the street from the grocery store.
Questions?
E-mail Ranger Trudy or call 419-285-2184

Did You Know?

Although the monument bears the name of Oliver Hazard Perry and six officers slain during the battle are buried under its rotunda, Perry is buried in Newport Rhode Island.