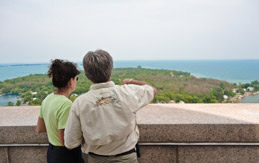 NPS Photo
During the operating hours and seasons, visitors can travel 317 feet to the top of Perry's Victory and International Peace Memorial. To access the observation deck the visitor must walk 37 steps inside the memorial to an elevator which will bring them the rest of the way to the top. Once on top, they will find themselves on the tallest open-air observation deck in the National Park Service. From the platform visitors can see several Lake Erie islands and across 10 miles to the site of the Battle of Lake Erie. On a clear day Canadian shores and several landmarks in Ohio and Michigan mainland are also visible.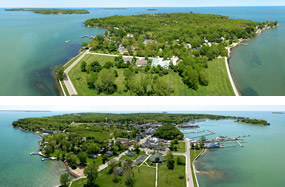 NPS Photo
Observation gallery
This gallery offers a panoramic view of western Lake Erie from on top of the monument in QuickTime format. A new window will open with the image. Use you left mouse button to navigate the image.

High Quality 1024x768 (1.6MB)

Medium Quality 800x600 (0.6MB)

Low Quality 640x480 (0.2MB)

---
Learn more about the
Lake Erie Islands
.