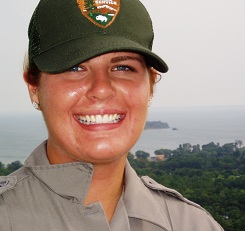 NPS photo
"On August 25, 1916, the National Park Service was formed to manage special places set aside to reflect the character of a great nation-and preserve them for our children and grand children," Mary A. Bomar, 17th Director of the National Park Service.
The National Park Service manages over 391 sites, and reaches beyond park boundaries to help communities preserve their heritage. It is the responsibility of the men and women of the National Park Service to insure that these special places stand the test of time.
Please visit USAJOBS.gov for information about working for the National Park Service or call Perry's Victory and International Peace Memorial at (419)285-2184.
Youth looking for opportunities with the National Park Service or other Department of Interior agency can visit YouthGo.gov.
Current Job Opportunities
Applications for jobs with the National Park Service are accepted via www.usajobs.gov, the federal government's official source for federal job listings and employment opportunity information. The jobs listed below are being drawn from www.usajobs.gov, and clicking on any of them will take you to the detailed announcement for that job on www.usajobs.gov.