Closed fo the Season

The Memorial is currently closed for the season. The Memorial will reopen on May 17, 2014. See you then!
Parks as Classrooms
Bring your students to Perry's Victory and International Peace Memorial. Find Resources for planning your trip including fee waiver information, ranger programs and more.
Field Trips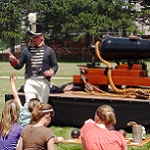 Field Trips
Learn More
If you would want a park ranger to come to your school or your organization to give a program here is where you need to look.