Visitors & GPS Users: Please go to the Visitor Center (Unser at Western Trail)

To find the visitor center please use the coordinates provided in the 'Directions' link. Otherwise you will get lost driving in various neighborhoods that surround the monument. Do not go to Headquarters (6001 Unser Blvd.) it is not designed for visitors. More »
See petroglyphs at Boca Negra & Piedras Marcadas Canyons

Petroglyph viewing is currently available at Boca Negra and Piedras Marcadas Canyons. Rinconada Canyon is scheduled to re-open to the public on Thursday, October 2, 2014 at 10:00 am.
Operating Hours & Seasons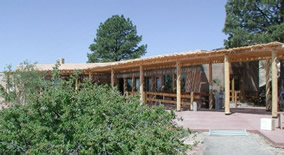 Las Imágenes Visitor Center
Open Year Round 8:00 a.m. to 5:00 p.m. MST
We suggest that all visitors first stop at the visitor center (Unser Blvd. NW at Western Trail) to receive brochures, trail maps, and current park information.
Closed: Thanksgiving, Christmas, and New Year's days. Also closed during severe weather. The visitor center typically closes at 2:00 p.m. on Thanksgiving, Christmas, and New Year's eve's.