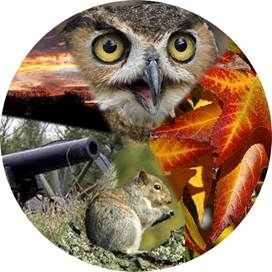 Environmental Camp 2014
Campers will explore the creeks, trees, birds, and bugs that live on Petersburg National Battlefield and will begin to understand the concept of an ecosystem and the dependence on one another. They will learn why the water cycle and water quality is important and what influences there are on them. They will learn that trees help hold soil in place and filter out unwanted sediment to keep water clean. They shade creeks and regulate water temperature for the many aquatic species that need clean, cool water. Many different animals live in the forest near the creeks and ponds of Petersburg National Battlefield. Otters, beavers, deer, herons, salamanders, snakes, frogs, turtles and many others depend on healthy forest creeks and ponds for food, water, homes and protection. For this reason, foresters, hydrologists, geologists, aquatic biologists and many others here at Petersburg National Battlefield work together to manage our creeks and ponds.
To achieve this, campers will don a pair of rubber boots and spend some time in the creek observing, collecting and studying the many living creatures in the creek. They will test water quality and discuss ways to preserve this habitat. They will explore the forest and seek out the bugs and other living creatures here on Petersburg National Battlefield.
Watch for camp dates for summer 2014